After two years we had an opportunity to play and compare with teams from different countries at European cup in Bulgaria, Dupnitsa. Everybody was super excited, and we could not wait for start of competition.  We left Croatia in the middle of the night of 15th August. After long trip we arrived to warm Dupnitsa.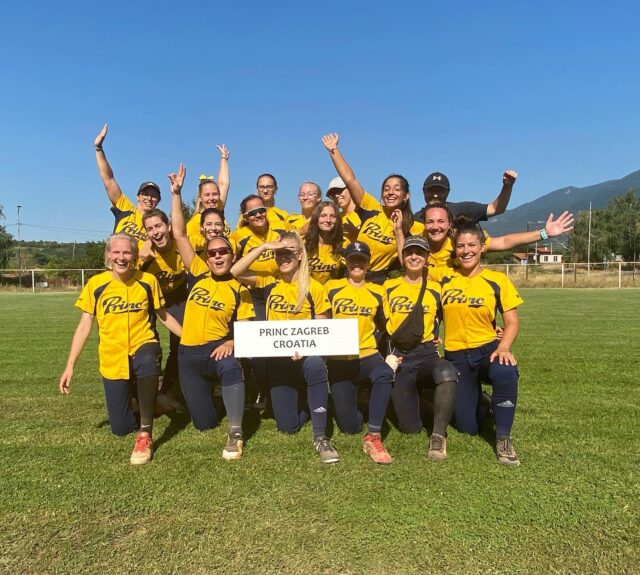 First game we played was against German team Wesseling Vermins. This team was one of the favorites of the tournament (and they managed to win whole European Cup). We played concentrated at defense, almost with no errors (only 1). Pitchers Vrančić and Duvnjak allowed only 5 hits. Despite our good offense, where we managed to produce 10 hits, we lost this game 6:4. Unfortunately, our hits didn´t come in right moments with bases loaded, on the other hand, hits from German players in connection with bases on balls came right in time. Despite lost game, we were ready to fight in next game. As German coach said after the game "We were so lucky in this game." Maybe one hit in better moment and we would be happier team in the end of game. At the end, this game turned out to be one of our the best in the tournament.
Tuesday afternoon we faced outsider of the tournament, host team, Angles Dupnitsa. After good and promising Monday's performance we thought beating Angles will be walk in the park. But the opposite became reality. We started good in offense where we managed to score in first two innings after Puškarić sent home Gunišová twice. Unfortunately, those two points were our last points in this game. Breaking moment came in third inning when opponent used our mistakes perfectly, hit five hits, scored six points, and made us to change a pitcher. Due to our not very concentrated defense, Angels scored another two points while we were not able to add any more points and game ended by mercy rule 9:2. Enthusiasm after Monday's good game dropped out and we needed to shake this bad loss as soon as possible.
Akademiks Sofia. Our third opponent of the tournament. The opponent, we were most scared of because of Cuban pitcher, which some of the players remembered from last European Cup as an unscalable obstacle. This game was like on a swing from the beginning to the end. Both teams made many errors in defense, but our offense worked so much better than previous day. This points shootout led to extra inning at 7:7. After several hits we took a lead 9:7 and players from Angles did not find answer to that. We were working as a team, headed by pitcher Duvnjak and her amazing pitching performance with 11 SO! Everyone was encouraged by this win, and we were back on track! At the same day we played against Poland team, Wroclaw Panthers. This game looked like it ended sooner than it started. First game of the day probably took too much strength from us, and it turned out that we were not well physically prepared to play in hot weather. Poland team was better in every aspect of game, and we did not deserve to win. We were not able to resist good Poland offense and precise defense, so we lost after four innings 10:0.
An important match awaited us on Wednesday. If we win, there is a still good chance to very good placement in the tournament. We faced Ukraine team Western fire.  Our starting pitcher Vrančić was performing very good and gave up only one earned point. It means, if our defense didn´t make any error, opposite team would score only once. Unfortunately, you can´t win with "if" in softball and the lack of experience and mistakes in important moments cost us better result. In offense we reached the bases often, but we left on bases too many runners (8). Two situations with bases loaded, one of them even with zero outs, we were not able convert to points. Result of game was 7:2. After this game we were so disappointed because we knew, we could have won. This loss meant that our best placement on the tournament can be fifth place. In sixth game of the tournament (at the same day as game against Western fire) got a chance also players who didn´t play in days before and needs to collect experience. Young pitchers Brlić and Ključarić showed big potential and opponents should count with them in next years. Even we lost this game 20:2, a many players got priceless experiences, important for future career.
Our penultimate game was against The Mix. Won in this game would mean that we can fight for fifth place, lost would mean we would fight for seventh place. First inning from The mix was like hurricane. After four hits and several errors The Mix took a lead 5:0. The same scenario was repeated in second inning, where they add four more runs. In fourth inning we finally found a recipe to Great Britain pitcher, Amie Hutchinson, where we scored our first and last three runs of the game. Offense of The Mix added two more runs in last inning in which we didn´t find a strength to turn the game in our favor, so final score was 11:3.
Lost in previous game meant that we would fight for seventh place with host team, Angels Dupnitsa. Both teams were able to reach the bases, but we could see first two points in the bottom of fifth inning, from Angels. Game was tense and after single from Klučarić, followed by Gunišová and Puškarić, we scored two points. We could have seen winning point in last inning. Unfortunately, on the side of opponent. After successful bunt, two stolen bases and throwing error by catcher, we lost last game 3:2 and finished at 8th place of the tournament.
We felt big disappointment. We knew we were able to manage more games to the winning end but that´s softball. Sometimes you win, sometimes you learn. But even though we ended at last position, we have nothing to be ashamed of. We fight till the last pitch, many young players gained invaluable experiences and finally, we had a lot of fun. And we were lucky to have opportunity to play, and that´s what matters the most.
Our results and final standings:
16.8.2021 – Wesseling Vermins 6:4                                                     1. Wesseling Vermins (Germany)
17.8.2021 – Angels Dupnitsa      9:2                                                     2. Panthers Wroclaw (Poland)
18.8.2021 – Akademiks Sofia W 9:7                                                    3. Western Fire Softball (Ukraine)
18.8. 2021 – Wroclaw Panthers 10:0                                                  4. Wanderers (Austria)
19.8.2021 – Western Fire            7:2                                                    5. The Mix (Great Britain)
19.8.2021 – Vienna Wanderers 20:2                                                   6. Akademics Sofia (Bulgaria)
20.8.2021 – The Mix                    11:3                                                   7. Angels Dupnitsa Softball (Bulgaria)
21.8.2021 – Angels Dupnitsa      3:2                                                     8. Princ Zagreb