We are all happy that after two years pause caused by global pandemic, we were able to organize our traditional BALL GAME tournament! In addition, this year it was 10th anniversary!
Nine teams, and more than 100 athletes took part in traditional softball tournament from 15th to 17th October. Teams have been divided to three groups and played 25 games in total. Group A: organizer – Princ Blue, team composed of players from Italy and France – New team, and Babes – this were the first games ever of this new Bulgarian team. In group B were: U18 Croatian National Team, only undefeated team – Blue girls from Italy, and Croatian team supplemented with Italy players – Medvednica. Group C consisted of Princ Yellow – young players of host team, Bandits from Germany, and well-known team from Croatia – Lady Pirates.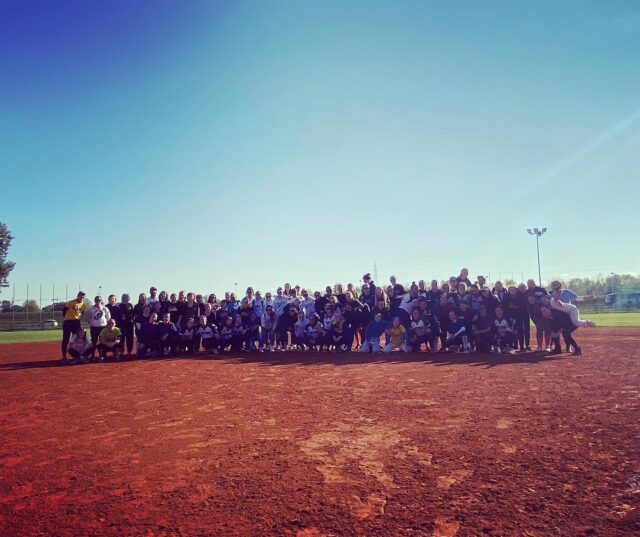 First games started on Friday afternoon. Whole weekend was accompanied by perfect weather. Saturday noon were groups games done and winners of the groups were Princ Blue, Blue Girls, and Bandits. Second places in group took New Team, Medvednica, and Princ Yellow. And last three were Babes, U18 Croatian National Team, and Lady Pirates. Whole weekend we could have seen great performances of players. Team Blue Girls made it to the finals with no defeat. After thrilling fight for the finals between Princ Blue and New team, finished by diving catch with bases loaded and two outs, at 5:2, New team advanced to the final. Happier team in the end of the game was Blue girls from Italy when they beat New team 8:1 and won whole tournament!
Thanks all the teams, umpires, volunteers, and everybody who participated in this amazing sport event. We hope to see you at our spring tournament, Forever fastpitch.
Photo gallery from tournament will be soon available on our Facebook fan page.
Final Ranking:
Blue Girls (Italy)
New Team (Italy/France)
Princ Blue (Croatia)
Bandidts (Germany)
Babes (Bulgaria)
Medvednicca (Croatia/Italy)
Princ Yellow (Croatia)
U18 Croatian National team
Lady Pirates (Croatia)